So WWD have mapped out Sephora's best-selling lipsticks around the world.
And well its a bit oh yeah….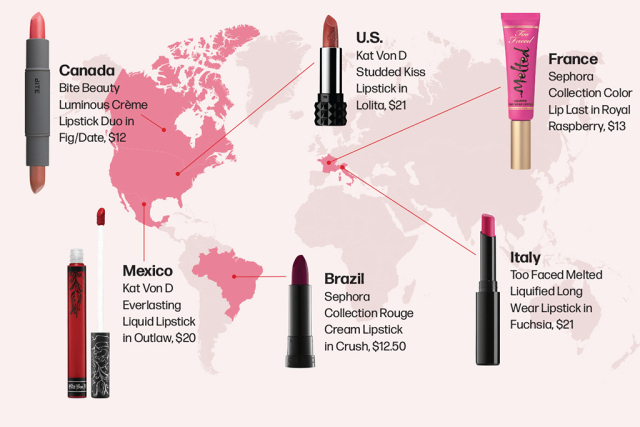 Remember this only is for brands Sephora sell.
Kat Von D's Studded Kiss Lipstick in Lolita—is America's fan favorite. Haven't tried it so…… woooo
Canadian  prefer Bite Beauty's Luminous Creme Lipstick Duo in Fig/Date. I can understand why with this one, the colors are great, it's like the perfect makeup staple.
French and Italians both has a matte fuchsia tone: Sephora Collection Color Lip Last in Royal Raspberry in France and Too Faced Melted Liquify Long Wear Lipstick in Fuchsia in Italy. We all know I tired and loved the Too Face Melted but I will just put my 2 cents that the Australis Velourlips Matte Cream its a really good alternative.
Mexico and Brazil preferred darker hues: Kat Von D's Everlasting Liquid Lipstick in Outlaw in Mexico and Sephora Collection Rouge Cream Lipstick in Crush in Brazil. I'm actually planning to get into the darker shades of lippy… Oh the ideas
But honestly I tried some of these but if we are really talking the best it has to be MAC's Ruby Woo (2013's top-selling lipstick shade in the U.S. according to http://www.harpersbazaar.com/)