Recently I was invited to do an Airwick collaboration and well of course, I said YES!
As you all would know because my pets make a regular appearance on my blog, I have 2 dogs and a cat.
Here are some adorable pictures to refresh you memories
Collins – Bichon x Poodle
Smelly habits: smelly farts

Boston – Maremma 
smelly habit: constantly smells of wet dog
Oreo – Domestic Cat
Smell habit: kitty litter
---
They are indoor animals and living with dogs especially a large dog like Boston more often enough the smell of dog lingers through the corridors, making me feel the gloom of a dirty house.  Everyone says it just because you have a dog, that doesn't mean your house should smell like a dog.
Here are some helpful tips that I use to keep my home smelling pleasant because there is nothing worse than coming home from a long day at work to a house that smells like dirty dogs and kitty litter.
---
Living with pets, top tips
---
1. Keep Your Home Clean.
There is no point if your house isn't clean….
2. Keep Your Pets Clean
Washing your dogs. Amazingly enough Boston stops smelling like wet dog after I wash and dry him.
3. If you have a cat, kitty litter is IMPORTANT
I'm going to dot point here, 1 litter box per cat, if you have a 2 storey home a litter on each level, unfortunately sometimes your cat isn't as courteous as you hope. Find the right litter for you and your cat. Clean the tray and finally LOCATION!
4. Let you house BREATHE
Crack open a window now and then, even in winter, even just for a little bit.
5. If You Can't Beat It, Cover It Up.
Here is where Airwick will become your best friend!
---
Airwick product that cover up those pet smells.
---
Reed-diffusers – They aren't too strong that they will irritate your pets but they keep the house smelling wonderful.
Placement tip: Near entries but not in front of too much airflow or find that the air blowing over the sticks is going to use up all the fragrance too quickly.
Favourite smell: Airwick life scents reed winter moments
Image from Airwick.com.au
Scented Candles – Not only do the glass candles great for decor, they provide amazing fragrance when lit or lingering smells when used just for decoration.
Placement tip: great for any room
Favourite smell: Airwick life scents colour changing candle mystical garden
Image from Airwick.com.au
Scented Oil Plug Ins– I like putting this one on the low setting not only does it last longer but my dogs seem to likely better.
Placement tip: I use this one is larger rooms as it can handle the task.
Favourite smell: Airwick life scents paradise retreat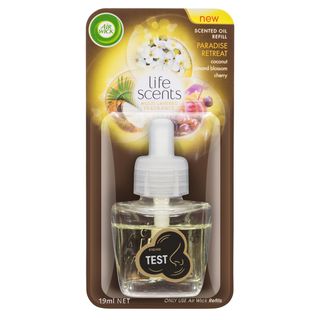 Image from Airwick.com.au
Freshmatic Automatic Sprays –  I set it for the longest period of time and if I find that if  I need an extra spray (if guests are coming) I can manually press the spray button.  Dogs and cat don't seem to mind, plus the cat has worked out a bathroom schedule to go before the spray!!! (yay). Just beware if you have fish.
Placement tip: In the room with the kitty litter
Favourite smell: Airwick life scents winter moments
Image from Airwick.com.au
*Products were provided for me to review, but all opinions are my own.
---
Do you have any other tips or tricks for minimising pet odours?
---